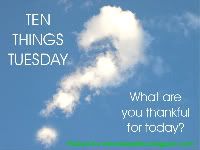 It is shaping up to be a

gorgeous

day ~ not too hot for a jacket and not too cold for shorts! No matter your temperature preference, you can be happy on a day like today!
We had a wonderful Easter! No matter how hard I try, I will

never

be able to wrap my head around the sacrifice Christ made for

me...

and for

you!!!

I'm so thankful for my redemption.
We have wonderful friends and family with whom we were able to celebrate this special day!

Spring Break was awesome! It was

so much fun

to have the kids home for a whole week. I will

sorely miss

them today,

and that's a good thing!



One of my children has an activity on Tuesdays that is a step toward fulfilling a lifelong dream. If a desire begins at age two for a child and never wanes, I feel confident in calling it

"a lifelong dream".

:

)



I am so thankful that Mr. Brownstone works so hard to provide for our family. I know he's so tired at the end of each day, but he stays involved with the kids and with me. Tuesdays are the longest day of the week for him because they start the earliest. Say a little prayer with me that he finds the energy he needs to have a great day!

He deserves a great day!



"Ten Things Tuesday"

has an awesome new button!!!

Grab one for your blog!!!



This means that there are some wonderful, helpful people in the blogosphere! Rachel Anne at Home Sanctuary and Michelle at Scribbit: Motherhood In Alaska...

y'all rock!!

Thank you so much for your help this week! I appreciate not only that y'all both took time out of your day to give me personal and detailed responses, but y'all contribute amazing quality to the blogosphere!
And I'd be remiss not to mention Chilihead at Blogging Basics 101. Her in depth blog about blogging has incredible step-by-step instructions for just about every question.
There are some creative and generous people in the blogosphere, too. Dennis Hill and Friends have a great website with amazing photographs, and

they...are all...

FREE!!!
Ten Things Tuesday Participants
Learn more about Ten Things Tuesday here.
Get The Code
Powered by... Mister Linky's Magical Widgets.