In this week's edition of Works-For-Me Wednesday: Greatest Hits Edition, Shannon over at Rocks In My Dryer, has asked us to rerun one of our own favorite old Works-For-Me Wednesday posts. I decided to get all nostalgic on y'all and rerun the very first Works-For-Me Wednesday post I ever made! Hope y'all enjoy it!

MY FIRST WORKS-FOR-ME WEDNESDAY!
Originally published on Wednesday, September 19, 2007.

For a couple of months now, I have been reading the
Works-For-Me Wednesday carnival hosted by Shannon at
Rocks In My Dryer. And y'all...it is so awesome! Each week I find wonderful new tips for just about everything! I've longed to join in the fun; but it wasn't until this past Saturday that I was finally ready to take the big leap and not only remove a post from draft form for the first time ever, but publicly publish that post as well! After privately blogging (in draft form) since the Spring, I am gradually making all of "XBOX WIFE" public. It's a work-in-progress. :)

Now, I am so excited
to finally be a part of:

THE UPSIDE OF DOWNSIZING AND ADDING MORE WHEELS
This summer was a big traveling summer for our family. We took an airplane trip, as well as a long road trip.

Sometimes traveling with kids can be,shall we say...

difficult!
They tend to get bored while waiting in line at the airport and hotel check-ins, making it an easy temptation for them to:
a)get loud, b)get

whiney

, or c)get lost by wandering away,
leaving you either angry, frustrated, or panicked

(or all three)

and wondering why you took the trip in the first place!

We found something that kept our forces of nature at bay this summer. And y'all, let me tell you, it made our travel time SO much easier! We gave each child their own suitcase. It's amazing what putting them in charge of their own set of wheels was able to accomplish. Not only did pulling their own luggage keep them occupied, it gave them a sense of pride and responsibility. They did NOT want any help, and they kept up with us in the airport. Focusing on their luggage kept them from being distracted by other things. They did not fight. They did not whine. They did not wander away from us. This held true in the hotel check-in lines as well, and

it was wonderful!



Of course, there were additional benefits as well. We packed

far less

than usual. Each person was limited to their one suitcase. This made doing laundry

so

much easier when we returned home. Lastly, Mr. Brownstone and I were able to have a stress-free check-in at both the airport and the hotels because not only were our children cooperating, but we were also each carrying only one small bag. Long gone were the days of lugging a couple of large, heavy suitcases and several carry-on items, all while corralling in kids. We did each have one small carry-on item because their were certain things we wanted to keep on the plane with us. I had a large purse, and he had a backpack. These helped to occupy the kids after the luggage was checked.

We followed the same exact packing plan for our road trip. We do not have a large car, and the four small suitcases fit perfectly in the trunk. We kept the "carry-on" items in the backseat with the kids, so they could access them easily. It was easy to unload what we needed at each hotel, and it kept our children from all whirlwind activity.

I can definitely say that the idea of downsizing and adding more wheels Works-For-Me, and I hope that it will work for you, too!

**

To see another thing that is working for me, click here!

(Link removed for reposting.)





HAPPY TRAVELING!





And now back to the present day...



What is working for me today other than the things about which I've already written?

It's "Ten Things Tuesday" ~ a carnival of thanksgiving!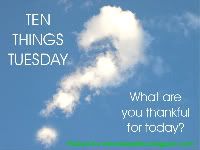 You can click here to read the guidelines,
and you can click here to read about the inspiration behind it!
Since we're all breaking out reruns today, click
here to see my other Works-For-Me-Wednesday tips, which include:
how we clean out children's closets with ease

(really fun!)

what meaningful gesture of love we use with our children

(my very favorite!)

what we've learned about dining in and dining out

"Backwards Edition"

tips for shopping at CVS

"Backwards Edition"

tips for removing white spots/rings from furniture

how we master math in the Brownstone household

(GREAT tool for math!)

"Backwards Edition"

tips for correct "tipping" etiquette in almost any situation

how I get my kids (and Mr. Brownstone!) to try new vegetables and love them

(biggest reader response!)

how we make traveling with kids easier

(see above!)
Click here to find out what works for us regarding chores and allowance!

Click here to see what easy recipes are working for us!