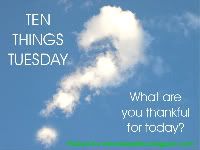 Dear Thankful Friends,

I am sick today with a whole mess of allergies that have settled in my chest. Please pray that my body will be able to fight this off before it ends up becoming something worse. I promise to come back and post a thankful list at some point today, but I need some rest first. However...I'm going ahead and opening up the link for all of you, so feel free to link back to your blog! I can't wait to check them all out later. It's one of my favorite things to do during the week because it's so uplifting!

Thanks so much in advance for your prayers!

Blessings,
Jill

(P.S. Don't forget to come check out my thankful list later today! It will be added to this same post.)

Updated at 12:12 pm to add my "ten things"!

WOW!

I am

so blessed

to come here and read your comments from this morning. Thank you for your prayers and sweet words.

This blogging community rocks!

And speaking of blessings...

aren't we blessed that God gave man the knowledge to create medicines that can make us feel better!?!!



The sunlight is spilling in every window, and it fills my heart with

joy!

I am so thankful that my siblings, siblings-in-law, Mr. Brownstone, and myself are not

"just family"

...we are all friends ~

genuine, true friends.



And speaking of genuine, true friends...one of my

dearest

friends brought me a Diet Coke with easy ice, cherry syrup, vanilla syrup, and real cherries from Sonic this morning because she knew I was feeling yucky...
That's not to mention the Sausage, Egg, and Cheese Burrito she threw in for good measure...

OR

the fact that another one of my dearest friends rang our second line

(while the first friend was telling me she was coming)

to ask me the same thing!

(Maybe

I should have taken her up on a second cup of

sheer delight!)

My kids are both healthy right now, and that makes me

soooo happy!



It is quiet today...

with the exception of the occasional pick-up game of squirrel basketball in the attic.

Some friends of mine got a better report from their child's doctor than they were expecting this morning. I'm thankful that a virus can

(simply??)

run its course, but please add "D" to your prayers because a virus never

SEEMS

simple when

you're

the one that has it (

OR

when it's one of your kids)!!

Ten Things Tuesday Participants
Learn more about Ten Things Tuesday here.

Powered by... Mister Linky's Magical Widgets.