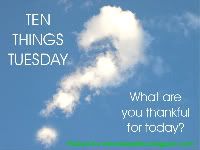 Thanks for coming here today! It's been a madhouse of activity around the Brownstone household, and there hasn't been a lot of time for blog reading or writing. I promise to be back to all aspects of blogging before too long...thanks for still visiting!!!

Mr. Brownstone made breakfast for Tornado and Twister this morning ~ bacon, eggs...all of it!
Tornado and Twister made it in bed by bedtime last night with no fussing ~ the results this morning were evident!
I am not lacking for activities to keep my busy today!

:

)

It is gorgeous around here! In just two weeks time, our huge oak trees went from having no leaves to being completely covered with beautiful green leaves. It feels so happy!

I think the squirrels are gone, and we did not have to pay to have them trapped or removed!

The repairs for all the damage they caused are almost complete ~ the outside of the house looks awesome with all new trim!

Only a few parents get to go on the field trip for Twister's grade level tomorrow. I was one of the parents chosen to go with them! It will be such a fun day at the Children's Theatre!

We have an exciting weekend ahead for church! Friday and Saturday is the Ladies' Retreat, and Sunday is the Children's Ministry Kick-off!

Though there are a million and one things to do around here, my mind is not overly stressed or distracted. I feel at peace today.

My siblings rock! I feel so very blessed by each one of them and their families!

Now go make a list of your ten things, and come back here to link! Have a blessed day!



Ten Things Tuesday Participants

Learn more about Ten Things Tuesday here.


Powered by... Mister Linky's Magical Widgets.