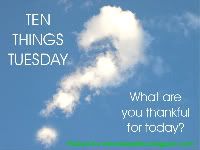 This past Sunday, our preacher had all of us get out our cell phones in the middle of church and hold them high above our heads. There was an audible wave of chatter throughout the auditorium. We all looked at each other as we obliged, all the time giggling, smiling, and wondering where on earth this might be headed. He had told us the week before to bring our cell phones...even though he had to know that we'd likely have them with us anyway. As we all held the phones above our heads, many people razzing our preacher by lighting them up and waving them back and forth as if at a rock concert, he told us to turn them to the "on" position. And in his turn to razz us, he actually told us to at least pretend like we were turning them on since we were ~ of course ~ in church, and they should have been in the "off" position. With phones ringing and buzzing everywhere, we all finally got our phones turned on and then set to vibrate, also at his request ~ one that would prove to be wise by the time all was said and done. Next, he asked us to text a message to someone. It could be anyone. The laughter was loud and clear. Texting??? He wanted us to text someone? Most of the people holding up the phones were not really a part of the texting generation, myself included! He told us that it was OK if it took awhile...he had a message from God's word for us to share: "Yet I will rejoice in the Lord."

This message came from Habakkuk. If you aren't familiar with Habakkuk, I encourage you to go and read it. You will find it in the Old Testament between Nahum and Zephaniah. It's a short book...only three little chapters. It might take you five minutes to read the whole thing. Maybe. If you read slowly. To give you the gist, though, Habakkuk is not necessarily a happy book of the Bible. It begins with Habakkuk crying out to the Lord ~ questioning Him, complaining to Him...almost accusing Him of not listening. He is frustrated! Maybe even angry. The wicked are prevailing, and Habakkuk is having to watch all of the injustice. The Lord then answers him, and it just might not be the answer for which old Habakkuk was looking. He tells Habakkuk, "I am going to do something in your days that you would not believe, even if you were told" and cautions Habakkuk to watch as He raises up a ruthless people and brings them powerfully to battle.

And what does Habakkuk do? He complains to the Lord again, asking, "Why do you tolerate the treacherous? Why are you silent when the wicked swallow up those more righteous than themselves?" Then the Lord answers Habakkuk in Chapter Two by telling him that the time will come for the wicked to fall. He tells him, "For the revelation awaits an appointed time; it speaks of the end and will not prove false. Though it linger, wait for it; it will certainly come and will not delay. See, he is puffed up; his desires are not upright - but the righteous will live by his faith..." He goes on to say, "For the earth will be filled with the knowledge of the glory of the LORD, as the waters cover the sea." And then regarding those "puffed up" with "desires not upright", He says, "You will be filled with shame instead of glory. Now it is your turn! Drink and be exposed! The cup from the LORD's right hand is coming around to you, and disgrace will cover your glory." Then comes one of my favorite verses in the Bible..."But the LORD is in His holy temple; let all the earth be silent before Him." Can you even begin to imagine what that will be like? ALL THE EARTH will be silent. The animals, the winds, the waters, the people... What a glorious moment it will be when we are all in such awe of our Creator that there will be complete and total silence!

Finally, we come to Habakkuk's prayer in Chapter Three. In it, he praises and recognizes the power of God, saying, "His splendor was like the sunrise; rays flashed from His hand, where His power was hidden." He talks of things of which he has complained...plague, pestilence, distress, anguish, wrath, famine... And then comes THE verse. Habakkuk 3:18 says, "Yet I will rejoice in the LORD, I will be joyful in God my Savior." Notice this, Friends ~ "YET I will rejoice in the LORD..." He does not say "IF the Lord will make it easy for me, then I will rejoice in Him." He says "yet". He also could have said, "Though there has been famine and plague, nonetheless I will rejoice in the Lord." Another way to say it would have been, "Though the wicked are triumphant in battle, even still I will rejoice in the Lord." Or he could have said, "On top of everything else ~ the distress, the anguish ~ I will rejoice in the Lord!"

Now back to the texting... We were instructed to text "Yet I will rejoice in the Lord" to whomever we wished, just making sure that we included the word "yet". Our preacher's phone immediately started vibrating with texts sent from his congregation. In the middle of trying to text my siblings, their spouses, my parents, all of my in-laws, and my friends, my phone started vibrating with texts from friends hearing the same sermon. [Remember, I am not a part of "Generation Text", so some could be considered (much) faster texters!] Mr. Brownstone's and my favorite, of course, came from Lurch-Lady as she informed us that "Yeti will rejoice in the Lord." She did previously live on a frozen tundra ~ maybe she knows him??? Good for the Yeti, though...even the Abominable Snowman needs to rejoice in the Lord!

After finally getting the message sent to our loved ones, my phone started vibrating again ~ a message from a brother-in-law asking if he was supposed to be the recipient of what seemed like the continuation of a conversation to him, more messages from friends, and then came the message that was the kicker of them all... It was from one of my siblings, and it said, "Thanks. Momo wasn't rejoicing too much when Twister fell in the pool ten minutes before church this morning." Now to give you some background, "Momo" is my mom's grandma name, and Tornado and Twister had spent the night with my parents on Saturday night. :) Remember when I said that putting the phones on vibrate was wise? Of course, I had to text back, "No! Really?" Upon which I received, "Oh yeah. Twister was 'cleaning' the pool."

I couldn't help but relate the message of Habakkuk to "Ten Things Tuesday". This whole exercise each week (or each day if you're like me) is to help us find things for which to be thankful...even when it's not easy! God never told us that life would be perfect, but we are called to rejoice in Him!

Here is my "YET I" list for today...

Twister fell into the pool fully clothed before church...

YET

I will rejoice in the LORD that my child has a spirit of adventure.

My allergies and asthma have really worn me down for the past couple of weeks to the point of being pretty worthless when it comes to blogging, housework, or anything requiring focus or energy...

YET

I will rejoice in the LORD that allergies are seasonal, and they are also controllable.

Squirrels have demolished a portion of our home...

YET

I will rejoice in the LORD that my children take delight in seeing the wildlife refuge in our front yard! (squirrels, lizards, blue jays, cardinals...)

The repairs will be costly...

YET

I will rejoice in the LORD that the timing falls in line with the receipt of our tax return.

I have been a terrible blogging friend the past ten days or so by not visiting sites or reciprocating comments...

YET

I will rejoice in the LORD that y'all have been so forgiving of this and you continue to visit.

We do not get to see some of our siblings very often...

YET

I will rejoice in the LORD that we get to speak often and the closeness and love we feel for each other is evident in every conversation.

Mr. Brownstone's "check engine" light is on...

YET

I will rejoice in the LORD that we have the means at the moment to have the car repaired ~ not to mention that we have two reliable vehicles.

I haven't made even a small dent in what I need to accomplish for the day...

YET

I will rejoice in the LORD because I have such wonderful friends to distract me with phone calls!!! (An easy choice to make!)

Our house is a complete and total wreck right now...

YET

I will rejoice in the LORD that our children have been able to participate in things that keep us busy on the weekends and during the week.

And YET I will rejoice in the LORD

that even though we had things we needed to accomplish, Mr. Brownstone and I were able to take time out and put domestic tasks aside to make time for one another this weekend. What a wonderful blessing!
I encourage each of you to make your

"YET I"

list, too; then come here and post your link so we can all share in it!
Ten Things Tuesday Participants
Learn more about Ten Things Tuesday here.

Powered by... Mister Linky's Magical Widgets.