Previous Entry: Brainstorming "B"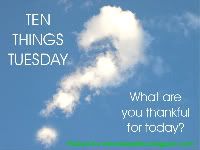 Good morning, Y'all!

Thanks for dropping by ~ if you're here for the first time, I hope you'll join in and express what is blessing you today! If you do join in, be sure and put (first time) by your name so others will know to give you an extra big hello!

Usually, I include a little description of WHY something gets a thankful nod, but this morning, I am going to focus on some one-word joys!

books

roly poly bugs

giggles

technology

creativity

nieces and nephews

Spray-N-Wash

granola bars

chubby cheeks

video cameras



One word, or a LOT of words..
.take time to be thankful today for the blessings in your life!!!
If you are a repeat visitor, than
k you for coming back time and time again! All of your thankful lists have been such a blessing to me. I am often reminded to be thankful for something that has been overlooked!


Ten Things Tuesday Participants
Powered by... Mister Linky's Magical Widgets.