Previous Entry: It's A Very Special Day!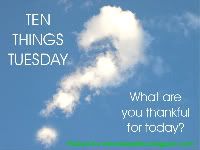 Good morning, y'all!! A quick list for me today, as I'm headed right out the front door after the last keystroke!


A new door is opening for me today!
Two new doors opened last week.
It is

chilly

outside today!
We had an awesome dinner for $10 last night.
Tornado and Twister had a good morning.
Tornado and Twister also had a good night.

I have sweet friends who are loaning me a useful item so I can give said item a test run.
The Cowboys won last night!
I've been under the weather this weekend, but today I feel a little better.
This week is busy, but I'll be following an organized plan!

Have a blessed day, y'all! Go, and be thankful!!!


Ten Things Tuesday Participants
Powered by... Mister Linky's Magical Widgets.