Previous Entry: Gimme A Break! Gimme A Break!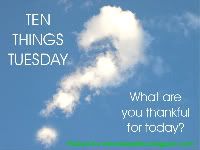 Good morning, Y'all!

Thanks for dropping by ~ if you're here for the first time, I hope you'll join in and express what is blessing you today! If you do join in, be sure and put (first time) by your name so others will know to give you an extra big hello!

If you are a repeat visitor, thank you for coming back time and time again! All of your thankful lists have been such a blessing to me. I am often reminded to be thankful for something that has been overlooked!

Yesterday was the first day of fall!

And fall, don't ya know, is my most favorite season of all!

The weather has been perfect!

It's sunny but not too hot in the afternoons, and the mornings have been chilly without being too chilly. Just perfect, I tell you...perfect!

The squirrels are going nuts for nuts right now!

It's been fun watching them. Earlier in the year, they would have driven

me

nuts, but they don't live in our attic anymore, so all is well!

The trees are starting to change ever so slightly.

We don't get the never-ending canopy of bold, beautiful colors like New England, but the changes that we do get are still beautiful!

The smells are changing, too.

I love the smells of autumn!

There are so many fun things that are going on right now

~

football games, marching bands, school craft fairs and carnivals... It's just a really fun time of year! Nobody is too hot. Nobody is too cold. And the wind isn't blowing everyone down the street!
I have been getting to wear some long-sleeves in the morning the for past week or two. I do not love wearing summer clothes, but

I simply adore the "winter wardrobe"!

This time of year brings a renewal of friendships.

Don't get me wrong, I loved all of my girlfriends just as much in the summer as now, BUT...we get to see each other more now that all of the kids are back in school. It's fun to catch a quick breakfast here, or a leisurely lunch there.


This is the only season that has two names ~

I can't think of alternate names for the other seasons anyway! I like that you can be relaxed and call it "fall". It sounds so comfortable and casual. OR...you can be all fancy and call it "Autumn"!

It is time to break out the soups and stews!

Meals in a bowl just do not sound that good when it is 100 degrees outside, but we are a soup and stew lovin' family! Mmmmm!
H

A

P

P

Y

F

A

L

L,

Y'

A

L

L

!

!

!
What are you fallin' for this autumn?
Ten Things Tuesday Participants
Powered by... Mister Linky's Magical Widgets.