Previous Entry: Ten Things Tuesday 8/26/08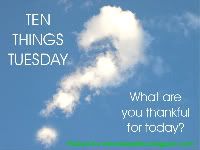 Good morning!

It's a gorgeous day here in the South!
It smells like we might be getting some rain!!
There are leaves tumbling down the street ~ the first signs of my favorite season!!!
We tried a new curriculum on Sunday in the class we teach ~ the kids seemed to like it, and so did we.
We enjoyed a nice lunch after church on Sunday with friends we haven't spent time with in awhile.
We bumped into not one...but THREE friends we haven't seen in a LONG while on Sunday.
We spent some quality time with Mr. Brownstone's family this weekend.
We spent some quality time with MY family this weekend.
We have parents that love us and our kids. They are also very generous. Mr. Brownstone's parents take us to dine out almost weekly. My parents purchase the majority of back-to-school clothing. We provide the hugs and good conversation...not to mention the grandkids.
Tornado and Twister are regaining their focus and organizational skills since school has started.
Please keep the Brownstone family in your prayers. Twister is still struggling with illness and is on ANOTHER round of antibiotics. Everyone else is battling off illness so far but it's throwing it's best one-two punch. Please pray that I will be able to get some rest, too. This four-hour-a-night thing isn't working too well for me!!!

Have a blessed day, y'all!


Ten Things Tuesday Participants
Powered by... Mister Linky's Magical Widgets.