Previous Entry: Ten Things Tuesday 9/2/08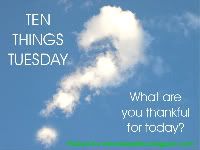 Good morning! It's time to count our blessings out loud ~ or at least with keypad noises ~ for the week! If this is your first time to stop my blog, then welcome, and I hope that you will join in "Ten Things Tuesday" with us, and visit anytime!

It took a week, but the rain

finally

arrived!!! We needed it ~

desperately!

It brought

a

little bit cooler weather ~ not much, but every degree counts!
I've had a MSN Hotmail account for a LONG time ~ YEARS, in fact ~ but I only discovered last night that you could set up a calendar,

and it will email you reminders!!!

Not quite sure how I missed it for so long...but SO glad to have found it!
Tornado and Twister are making mornings a breeze this year! Last year, we struggled a little bit with morning grumpies and not staying on task. This year has been awesome, and it's not even the first week of school anymore!
I am thankful for restaurants that offer great deals. Sometimes

we really can

dine in a restaurant for cheaper than I can cook at home!
This is a big one ~

I haven't been craving Diet Cokes in the morning this week.

It's only been a few days, but that is a huge one for me. I cannot, however, say the same thing for the afternoon!

:

)

We are continually having new friends placed in our path at church, work, and school. What a blessing!

An

amazing

opportunity for cultural experience dropped right into my lap this week to benefit an organization for which I volunteer. When it occurs, I'll be sure to include more detail ~ for now, it's a surprise ~

an incredible surprise!

I am thankful for quiet moments during the day...

I am

even more

thankful for the loud ones when the rest of the family gets home from school and work!
Have a blessed day!
Ten Things Tuesday Participants
Powered by... Mister Linky's Magical Widgets.