Here is a link for July 29, 2008. Please feel free to link your list from last week here!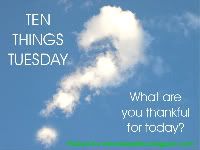 I was thankful for lots of things last week...family, friends, Tums, Tylenol, my bed, movie channels, chicken noodle soup, crackers, bananas, and Sprite.

How's that for ten? :)


Ten Things Tuesday Participants
Powered by... Mister Linky's Magical Widgets.