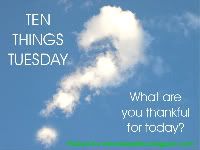 Hello, Friends!

I missed you last week! We had family visiting from another state for most of the week, not to mention...I got rather sick for a few days. Not so fun. :(

Please see the post below this one if you'd like to add your link for last week. Add your link for this week here!


I am thankful that almost all of our family lives within an hour or less from us.
It's so nice that we get to spend time with all of them on a regular basis.
I am thankful, too, that we get to spend time with the family that lives

far

away from us more often than you'd expect. Both of those families are the ones with babies.
We are blessed that

we like

to spend time with our family!

:

)

We're even more blessed that they apparently like to spend with

us!

I am

so thankful

that I'm not sick anymore.

It was nice to know that I was missed by some of my "bloggy" friends.

I am thankful for these crazy online friendships!

Technology opens the door to many amazing things.

Blogging has opened that door even further.
Have a wonderful week!! Remember to count your blessings!!!
Ten Things Tuesday Participants
Powered by... Mister Linky's Magical Widgets.