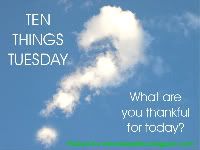 Good morning, y'all!!! Hope this week finds everyone well! We've got a sick one in the Brownstone home. Please pray for little Twister. Strep throat isn't fun!


I am so thankful for our church!
We have the privilege of worshiping with some of the finest people and best friends we've ever known.
Our elders are accessible to the congregation ~ how blessed we are to have such great men leading us in the charge.
All of our ministers are fantastic! They are all down-to-earth regular people so you can be comfortable around them, but at the same time, they are knowledgeable, passionate, insightful, and wise.
There are so many people that are willing to pitch in and lend a hand, from the song leaders to the quilting ladies to the nursery workers to the benevolence room volunteers.

The opportunities to be involved are great! There are so many different ministries and projects that there is something for everyone ~ Giveaway Day, Benevolence Pantry, Quilting, Children, Youth, Missions, Camps, Finance...and the list does not end there!
We have just committed to fully support two missionary couples as they work to expand the Kingdom. They are young and energetic. What a blessing to us and to the people with whom they will be working!
We were finally ~ after many years of waiting ~ able to complete a beautiful new worship center! It was designed to be filled with music ~ from the scalloped ceiling to the tile floors to the big rock wall at the front ~ and the

acapella

singing was amazing!!!
Even better, though...we were ALL in there together on Sunday morning. For the time being, we will be able to worship as one body in one service. It was very moving, and I cried through a lot of it! Beginning with the raising of the cross on Thursday morning at 6:45 with the sun rising while we listened to Scripture and sang hymns like "Old Rugged Cross", continuing with a 72-hour non-stop reading of the entire Bible by members of the congregation to fill the walls with the Word of God, to the culmination of the reading with a congregational reading of the final few verses on Sunday morning, to the SEVEN baptisms

(One that is the son of some of our closest friends, five that were near and dear to us from teaching, and one that moved away but wanted to come "home" to be baptized)

and FIVE new memberships (My favorite quote from the day? Our preacher said,

"God was saving souls and robbing hell."

AMEN!), moving on to the church-wide feast, and finishing up the day with an hour of praising God in song. The whole day was amazing!!!
I am thankful that even with 1350 people there on Sunday morning, our church has an incredible sense of family. It has not lost the "small church" feeling and is working hard to keep it that way!
What are you thankful for today? Make a list, and come link up here! It's always a blessing to read about other peoples' blessings!!!

Remember, this is the day the Lord has made! Go out and rejoice!!!

Ten Things Tuesday Participants
Powered by... Mister Linky's Magical Widgets.