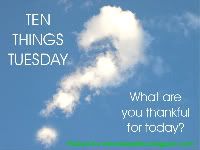 Good morning!!! As always, thank you for stopping by XBOX Wife. I'm so glad you decided to visit and hope you'll come again! Be sure in join in the thanksgiving today!


I am thankful that weather is cooler today. You know it's been hot when 92-degrees sounds cooler!
Tornado is getting to attend an awesome camp this week. Our preacher, the associate youth minister, and the director of children's education have put together this amazing day camp for our kids to discuss their own faith. Tornado had so much fun spending the day with friends and in God's word!
We have so many friends at church. It's another family for us! It's so wonderful to know that Tornado and Twister are developing those lifelong friendships at such an early age.

I am thankful for spontaneous opportunities to lend a helping hand. It happened twice this morning. It's good for our kids to experience it because sometimes it teaches them patience, sometimes it teaches them empathy, and it always teaches them about love.

Sonic breakfast burritos rock! Nothing beats one of those accompanied by a Diet Coke with easy ice, cherry, vanilla, and real cherries. Breakfast of champions!
So much has already been accomplished this morning. My list is long and not all fun, but the day got off to a great start!
We will get to have some quality family time tonight. It will be the first night in almost a week that all four of us are home alone...together!
We are loving watching the Olympics! It is making for some intense television. We've been very pleased with the amount, as well as the quality, of coverage.
I'm thankful that our kids dream big! We've got one dreaming about competing in the Olympics someday. It's not an unrealistic dream. Maybe in 2016 I can wave to all of you from the sidelines.
Finally, I know a lot of them read this, so I can never say it enough...I am so thankful for my girlfriends. I've told them before, but I wonder if they can ever TRULY know how they have impacted my life. I love y'all!
Have an incredible day! Be thankful in everything!
Ten Things Tuesday Participants
Powered by... Mister Linky's Magical Widgets.