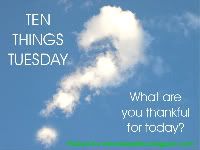 Good morning! Hope this finds all of you well and full of thanksgiving!

I decided to do a slightly different take on the list today by asking each of my two children to tell me five things for which they are thankful.

"Our house because we don't have to sleep on the side of the street like some people do."
~ Twister

"Food because we don't go hungry."
~ Tornado

"Family because I have people to live with, they love me, and they take care of me."
~ Twister

"Pretty weather because we get to play outside."
~ Tornado

"Friends because it's somebody to play with and just to have somebody to talk to."
~ Twister

"Our dog because we have somebody to play with when we go outside."
~ Tornado

"Trees because they help us breathe and because it's fun to watch them change colors."
~ Twister

"School because you get to learn subjects, and we get to see our friends."
~ Tornado

"Clothes and shoes because they keeps us warm, and we don't get blisters on our feet."
~ Twister

"Church because we get to learn about God and Jesus."
~ Tornado
Wow!

I

was so thankful to hear that they

"get it"!

Though I think my kids are great...and while my thoughts are that it's just fine to be thankful for trivial little things...and for entertainment things...and for modern convenience things...I am so thankful that

they

were thankful for the

these

things.

I am thankful for my two sweet kids!

Have a blessed day!



***IF YOU
FEEL LIKE YOU'RE AN ACTIVE PARTICIPANT IN "TEN THINGS TUESDAY,
and you do not see your name under the
"BLESSING COUNTERS" in the sidebar, please email me at

XBOXWIFE@HOTMAIL.COM,

or you can leave a message in the comments. I have been trying to update the list, but it's entirely possible that people have been inadvertently omitted. If you are one of those people, please accept my apologies, and please let me know that you would like to be added to the list! As always, thank you for sharing your blessings with all of us!



Ten Things Tuesday Participants

Powered by... Mister Linky's Magical Widgets.