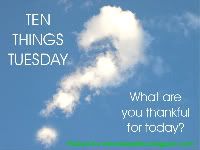 Hmmmm...past 9:00 am? Check. That definitely means it is summer, as my "I'll try to have a link up by 9:00 am" has most assuredly fallen by the wayside! We have been staying up later and sleeping in later around here ~ both rites of summer for two kids on vacation. As a result, breakfast, etc., etc., etc....well, those are all happening later, too! Thank you for having patience for the links! Hope you're having as blessed a summer as the Brownstone Family!

I am thankful for special times with my children! I am thankful to get to spend quality time with them together, as well as time with each of them individually.
I am thankful for summer camps, which is where Tornado is this week. Though I miss the little force of nature terribly, I know that camp will be a blessing!

I am thankful that my children are active! They are involved in lots of different things, and they like to do things during the day.

I am also thankful for leisurely summer days! It's fun to just take a day to relax sometimes and do virtually nothing...together!

I am thankful for grilled ham and cheese sandwiches. They are easy to make and an inexpensive option for a fancier homemade sandwich!
I am thankful for grapes ~ red or green, fresh or frozen. They are always a tasty treat!
I am thankful for oranges. They make the house smell so delicious!
I am thankful that our almost 25-year-old air conditioner still works!!! It is HOT here!

I am thankful for our quiet neighborhood. With major roads in the area, it could have been loud, but we are blessed by minimal traffic and quiet days and nights.

I am thankful for good friends and family! We are getting to spend a lot of time with friends and family this summer, and it's been so awesome!
Have a wonderful week!



Ten Things Tuesday Participants

Learn more about Ten Things Tuesday here.


Powered by... Mister Linky's Magical Widgets.