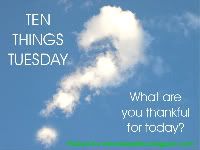 Hello, Friends!

Hope y'all are having a wonderful day. I'm absent today but wanted to encourage all of you to count your blessings ~ I'm counting mine! Today it is a "YET I" list. You can read about my first "YET I" list and what it means here.

My computer is acting up,

YET I

am so thankful for technology!
Allergies are not so fun for me during this time of year,

YET I

love Fall. It is my favorite season!
Our washer and dryer are just a bangin' and clackin' away,

YET I

am thankful that we've had them for so long, and they still get our clothes clean.
I have been sleep deprived due to busy-ness the past couple of weeks,

YET I

am thankful that I am

able

to be "busy".
My favorite drive-in

(If you're a regular reader, you know the one!)

has messed up my last several drink orders,

YET I

am thankful to be able to have a cold drink

(and an indulgent one at that!)

during the day. So many people don't even get a cup of clean water, much less something cold and refreshing.
Between the stock market, the war, and the political election, there is so much turmoil in the United States right now,

YET I

am so thankful that I live in America and have such abundant wealth and freedoms.
Due to a mix-up while changing service providers

(long story!)

, our home telephone line is temporarily unavailable,

YET I

am thankful that a temporary delay has allowed me to get caught up on some things for which a telephone might be a distraction.
Having a job in the financial industry, Mr. Brownstone has been just a little bit stressed out at work

(Can you blame him?)

,

YET I

(and he)

are so thankful that he has a job to go to everyday...and one that he likes

most of the time!

Sometimes I get overwhelmed if there is TOO much going on all at the same time,

YET I

am so blessed to have friends and family that are loving and supportive!

I miss being in adult classes at church,

YET I

am really enjoying the group of kids we have in the fifth and sixth grade class that we teach!

Thanks to everyone for dropping by ~ if you're here for the first time,

WELCOME!!!

I hope you'll join in and express what is blessing you today! If you do join in, be sure and put (first time) by your name so others will know to give you an extra big hello!

And i
f you are a repeat visitor?
THANK YOU
for sharing your blessings each week! All of your thankful lists have been such a blessing to me and to others, too!
Remember, I am taking a short blogging break until I can deal with the computer issues. If Mr. Linky happens to not work on this scheduled post, please add your link to the comments section, and I will add it to Mr. Linky when I'm back online!
Have a blessed week!