Previous Entry: Ten Ways To Put Pennies In The Piggy!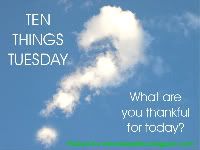 Good morning, Y'all! What a blessed day it is!

Thanks to everyone for dropping by ~ if you're here for the first time, WELCOME!!! I hope you'll join in and express what is blessing you today! If you do join in, be sure and put (first time) by your name so others will know to give you an extra big hello!

And if you are a repeat visitor? THANK YOU for coming back time and time again! All of your thankful lists have been such a blessing to me. It was a crazy week last week, and I wasn't able to read most of the lists until yesterday, but they came at just the right time, and as always, they said just the right things!

If you weren't able to visit the other participants last week, be sure and take a quick look at the link list. There were several first-timers, and it was the most successful "Ten Things Tuesday" of all time! There were thirty of us sharing our blessings with each other ~ that's THREE HUNDRED happy thoughts!

Today is a very special day! One of my siblings ~ Thing 3 ~ came over and spent the night last night so we can spend the whole day together! While we are all four very close, I am still often left with the feeling that I don't get to see my siblings enough, so this day will truly be a blessing! Here are ten reasons that I am so thankful for you, Thing 3:

You have the gift of gab!

We are

never

at a loss for conversation when we're together!

You have a dry sense of humor...and I totally get it!

Not a lot of people can pull off "dry" well, but you are

definitely

one of those people.

You have the most eclectic taste in music of anyone I know!

You have introduced me to so many new sounds, singers, bands, and musical genres ~ I would never have known what I was missing, and it would have been

a LOT!

You are so great with my kids!

Tornado and Twister love you so much. They are always so excited to find out that you are coming to spend time with us. Most importantly,

they know that YOU love THEM.

You always make an effort, even with your busy schedule, to carve out time especially for them.

You are not afraid to say what you think.

I

never

have to worry if you are giving it to me straight or not!

More than once you have helped to think about things in a different light.

You are extremely dedicated in your field of work, and you're really great at what you do!

I know that your job is not always easy ~ even the parts about it that might look fun to an outsider ~ but

you make it look easy!

You have a real talent in fulfilling all of the areas that are important to make your job successful, even the ones that a lot of people in your position might overlook.

You are scary smart!

I don't know a single person that could slide into a different job so

effortlessly

if that is what you ever decided to do. You've tapped into parts of your brain that the rest of us might never find!

You love to try new foods, and you love for other people to try them, too!

You are not afraid to experiment with flavors and textures, and you'll try anything at least once. It's fun to dine with you! And for the record, you make

crazy good

hot sauce! I will always believe that you should bottle and sell the stuff.

You are never boring!

Whether it's going to the movies or picking up at a moment's notice to go on vacation with your big sis and her family, you like to get out into the world and

DO

things!

You are true to yourself!

You have never been afraid to not follow the crowd, even at the ages where a lot of strong folks finding it increasingly difficult to march to their own drummer.

I admire your ability to be yourself and to be true to your own heart!

Of course, I couldn't stop at just ten, and

eleven really will not be sufficient

but gets the point across that "You Rock!"

You love Jesus, and I'm thankful that our time together won't end here on Earth.

Just think...you'll get to spend an eternity with your bossy big sister!

:

)
Have a blessed day! Don't forget to count your blessings!!!