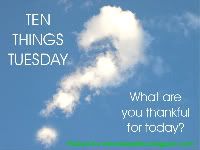 Good morning, Y'all!  Isn't this a blessed day?  It is a day that the Lord has made!  Rejoice, and be glad in it!
I rejoice that we just got to spend a wonderful weekend of thanksgiving with my family!  It was so good to see all of them without the normal pressures of a week.  We spent the weekend taking turns holding the newest sweet baby!  It was almost enough to make me think about having another one.




I rejoice that I've just celebrated another year on this earth!  I had a birthday over the weekend, and it was a good one!  It was also one that reminded me that having another baby is just a nice thought.  Though we would LOVE another baby and consider all children as a blessing from the Lord, I love where we are as a family!




I rejoice that I've got such wonderful friends!  It's always a joy when I can look forward to spending time with them!




I rejoice that I've been able to reconnect with some old friends!  It's so easy to get caught up in our daily lives that you can forget how much you miss talking to old friends until you're given the opportunity to catch up with them!




I rejoice in our church home!  We have been so blessed to find a place that focuses on making church truly like a family.  I get such a warm feeling of comfort from those with whom we worship!




I rejoice in having found a creative outlet!  It seems like I haven't really had a lot of time to blog lately, and computer issues put a big giant forced hiatus in effect for awhile, BUT...blogging is a nice creative release for me.  I wish it had been around longer!




I rejoice that my kids are so great!  We just got back some testing scores for them, and I have to brag a little bit ~ they are so smart!  They are great kids in all of the other ways that matter even more, though.  They have a great capacity for loving others and for loving the Lord!




I rejoice that Mr. Brownstone is such a wonderful man and an even more wonderful husband!  He makes me laugh every single day, he is a great provider, and most importantly, he is a man of God.  He is also the best daddy for whom our kids could ever hope!




I rejoice that this is a season of rejoicing!  I LOVE this time of year.  I won't lie ~ I adore all of the commercial aspects of Christmas.  I love decorating, seeing Santa in the malls, and buying gifts!  I love the parties and the organized ~ and sometimes not so organized ~ chaos of all.  BUT...I really love having a special time of year to focus on our Lord and Savior Jesus Christ.  I don't care if He wasn't born on December 25.  Since there is no way of knowing the exact date, I think it's great that one has been picked to honor His birth.  I love that during this time of year there is a focus on giving, a focus on helping those less fortunate, and a focus on rejoicing!  Even in a time of financial upheaval, it is so heart-warming to see people digging deep and helping others however they are able!




I rejoice that God sent His Son to earth!  What an amazing sacrifice we are so blessed to have so undeservedly received.  REJOICE!



As always, thank you for joining in the thanksgiving with me each week!  If you're a first time visitor, please add (first time) by your name, so everyone can give you a big warm welcome!