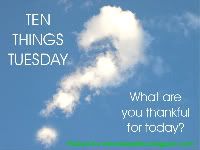 Good morning, Y'all! What a beautiful, blessed day!

Thanks to everyone for dropping by ~ if you're here for the first time, WELCOME!!! I hope you'll join in and express what is blessing you today! If you do join in, be sure and put (first time) by your name so others will know to give you an extra big hello!

And if you are a repeat visitor? THANK YOU for coming back time and time again! All of your thankful lists have been such a blessing to me!

Be sure and take a quick look at the link list when you get little opportunities throughout the day, so you can visit others and find out what is blessing them! Don't forget to welcome our newcomers!
I'm thankful for the "happy chaos" that can accompany mornings in getting two kids ready for school!  I wouldn't change any of it! 

Likewise, I am thankful for the quiet moment that follows.  It is usually the only time the day is quiet!  :)

It's busy this time of year, but it's starting off well and staying organized...for the most part!

Mr. Brownstone doesn't know it yet, but we are putting up our Christmas tree this weekend!  It's still pretty warm outside, so it doesn't seem like we should be doing it yet, but I don't want to be focusing on decorating during Thanksgiving.  

Thanksgiving is almost here!  Yea!  My mom makes the best stuffing ever!


I am thankful for the coming noise of thanksgiving!  When you get a set of parents, four siblings, their spouses, and all of the grandkids in one house, it can get a little bit loud!

Our time together is filled with lots of laughter!

I am thankful for goofy, cheesy movies that require little thought to watch.  My siblings and our spouses usually watch one at this time of year.  It's a tradition!

I am thankful, too, for good books.  There is always time to sneak in some reading.

Finally, I am thankful that the Cowboys won on Sunday!  It at least puts them ~ maybe ~ back into the game.
What are you thankful for today?