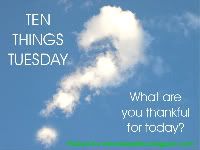 Oops!
It's Tuesday!

Welcome to everyone! If you're a newcomer, be sure and let us know beside your link by typing (first time). You can grab the button graphic code, read the guidelines, and find out the inspiration for "Ten Things Tuesday" in the sidebar on the right. If you're a regular visitor, thanks to you, too! Y'all are the ones spreading the word about "Ten Things Tuesday", and it just wouldn't be the same without you!

A very quick list for me to be able to get Mr. Linky up for you!!!


the smell of clean laundry

the way clean sheets feel

nice lunches with friends

the funny things that kids say

children's spelling errors

good anticipations

autumn rainstorms

sunshine days

watching leaves flutter to the ground

lists!
Come join in the thanksgiving!!!
Ten Things Tuesday Participants
Powered by... Mister Linky's Magical Widgets.