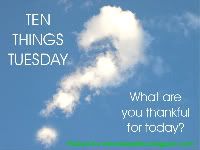 Another Tuesday and another "Ten"... I hope that you are finding some time on Wednesday through Monday to be thankful, too!

I wanted to share with you a favorite Scripture passage this morning. It's 1 Chronicles 16:7-36 in the New International Version of the Holy Bible.

7

That day David first committed to Asaph and his associates this psalm of thanks to the LORD :



8

Give thanks to the LORD, call on His name; make known among the nations what He has done.



9

Sing to Him, sing praise to Him; tell of all His wonderful acts.



10

Glory in His holy name; let the hearts of those who seek the LORD rejoice.



11

Look to the LORD and His strength; seek His face always.



12

Remember the wonders He has done, His miracles, and the judgments He pronounced,



13

O descendants of Israel His servant, O sons of Jacob, His chosen ones.



14

He is the LORD our God; His judgments are in all the earth.



15

He remembers His covenant forever, the word He commanded, for a thousand generations,



16

the covenant He made with Abraham, the oath He swore to Isaac.



17

He confirmed it to Jacob as a decree, to Israel as an everlasting covenant:



18

"To you I will give the land of Canaan as the portion you will inherit."



19

When they were but few in number, few indeed, and strangers in it,



20

they wandered from nation to nation, from one kingdom to another.



21

He allowed no man to oppress them; for their sake He rebuked kings:



22

"Do not touch My anointed ones; do My prophets no harm."



23

Sing to the LORD, all the earth; proclaim His salvation day after day.



24

Declare His glory among the nations, His marvelous deeds among all peoples.



25

For great is the LORD and most worthy of praise; He is to be feared above all gods.





26

For all the gods of the nations are idols, but the LORD made the heavens.





27

Splendor and majesty are before Him; strength and joy in his dwelling place.





28

Ascribe to the LORD, O families of nations, ascribe to the LORD glory and strength,





29

ascribe to the LORD the glory due His name. Bring an offering and come before Him; worship the LORD in the splendor of His holiness.





30

Tremble before Him, all the earth! The world is firmly established; it cannot be moved.





31

Let the heavens rejoice, let the earth be glad; let them say among the nations, "The LORD reigns!"





32

Let the sea resound, and all that is in it; let the fields be jubilant, and everything in them!





33

Then the trees of the forest will sing, they will sing for joy before the LORD, for He comes to judge the earth.





34

Give thanks to the LORD, for He is good; His love endures forever.





35

Cry out, "Save us, O God our Savior; gather us and deliver us from the nations, that we may give thanks to Your holy name, that we may glory in Your praise."





36

Praise be to the LORD, the God of Israel, from everlasting to everlasting. Then all the people said "Amen" and "Praise the LORD."
I think David gets it right in his Psalm of Thanks! "Call on His name", David tells us. "Tell of all His wonderful acts." "Rejoice!" "Seek His face always."

Sometimes it may seem that nothing is going your way. In today's world, it is so easy to get bogged down by "things" ~ whether they be busy schedules, materialistic items, political issues...there are so many different things to distract us from what is important! God is still present in our lives. He is there for us to recognize if we choose to do so.

Seek Him out in what may seem to be the simplest blessings.
Rejoice in the things we often take for granted in life.
Tell of all the wonderful things He has done and is doing for you.
Call on His name!!!

I woke up today because I could hear my alarm clock.
I could feel the warm body of my faithful Christian husband next to me.
I could stand up and walk when I arose this morning because I have two strong, healthy legs.
I made my way from the bed to the door because I could see the path before me.
I had the joy of seeing my two children snuggled so small and fragile in their beds, long eyelashes and cherub lips. God is allowing me to be their mommy.
I was able to use my voice to wake them. I sing to them in the mornings. "This is the day! This is the day...that the Lord has made, that the Lord has made. I will rejoice! I will rejoice...and be glad in it, and be glad in it. This is the day that the Lord has made! I will rejoice, and be glad in it! This is the day! This is the day...that the Lord has made!"
We were all able to dress in good, clean clothing and shoes.
We were able to have a healthy, balanced breakfast today, and we'll also be able to have a healthy, balanced lunch, as well as a healthy, balanced dinner.
We have cold, clean water to drink whenever we want or need it. We have warm water for showers and baths, too.
I was able to give my children the necessary vitamins and medicines they needed this morning.
We are so blessed. If you are reading this blog, then you are blessed simply because we know your eyes work! You are also blessed because you have access to technology! You are blessed because you have time in your day to relax long enough to read a blog! I encourage each of you today as you make your lists to really grab on to the most simple things in your life. List out the things that are truly God-given blessings!

Have a blessed day!
REJOICE in the LORD!!!


Ten Things Tuesday Participants
Learn more about Ten Things Tuesday here.

Powered by... Mister Linky's Magical Widgets.