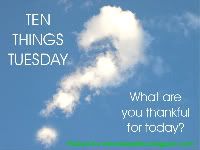 Don't give up on more regular blogging, folks. It's coming...it's just busy, busy, busy! I thought when my kids got older, it would be easier ~ not so! However, I wouldn't change a thing about our life. We're trying to savor every single moment...I hope you are, too!


I went to bed three hours earlier than normal last night. It's been a long time since we crawled into bed by 9 pm. It was a much needed rest!
I think we're getting some rain today!
We have a meeting this morning to discuss some awesome plans for our Children's Ministry program at church. Big things are afoot!
I just got to drive my sweet babies to school. I really enjoy that special time with them.
We got to see both of our moms on Mother's Day this year. We were able to spend some quality time with each of them.
My kids' made homemade cards this year, which I greatly prefer to store-bought. They have really made me smile (and laugh) every time I look at them!
Mr. Brownstone and I have a vacation coming up in a few weeks. It's fun to anticipate the time away with him!
I am thankful that God gives us willpower. I said "no" to getting a Sonic drink three days in a row now. Will I still have them occasionally? Yes ~ maybe even today...but it was time for the addiction to stop! I had success with this during the week last week and over the weekend as well. Since last week, I only had one on Friday. Yea!
My kids are good sports. We had Field Day recently, and they really cheered on the other kids. They were also gracious in winning and in losing.
Tornado did something at Field Day that I cannot even write about yet because it makes me teary-eyed. I will never forget the moment nor what Tornado said to me later that day to explain it. I am so thankful to have a child that thinks the way Tornado thinks. (Twister is a pretty great thinker, too!)

Ten Things Tuesday Participants
Learn more about Ten Things Tuesday here.

Powered by... Mister Linky's Magical Widgets.