I promise to visit all of the new Ten Thing'ers soon! I'll come visit all of the old ones, too! Thanks for sticking in during the blogging drought around here. Things have been too busy to dare start reading and commenting. If I start, I'm not able to stop! BUT...I know you're there. I've seen you. I've sneaked the quickest of peeks...and am so glad to have each and every one of you on this journey of joy with me!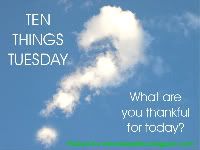 Good morning! Isn't it turning out to be a gorgeous summer? It's hard to believe, though, that it's not actually even "true summer" yet!

The one solid reminder we have, however, is SCHOOL. Yes...you read that correctly. The Brownstone kids are still in school! It's almost enough to make me complain a little bit. My philosophy is that there should be no school allowed during the months of June, July, and August.

NONE!

Not. A. Single. Day.

When I was in school, we started every year the day after Labor Day, and we were out for summer by every Memorial Day. You know what? We all turned out just fine!!!

Kids need summer!

BUT...this is "Ten Thing Tuesday". It is not a complaining post!


Our children are receiving a stellar public education. We are so blessed to be in a school district that has a high standard of learning.

They have a beautiful learning environment. Really...it's beautiful. The school looks brand new, and the layout is amazing. Each grade level is self-contained, with the exception of Art, Music, P.E., Spanish, and the Cafeteria, which are conveniently in one area, and the Library and the Office, which are centrally located.
The school is always clean. And by clean...I mean really clean. The custodians do a fantastic job each and every day. On this subject...if you've never thanked your child's custodian, you should totally do it. I've worked in schools that were not very clean and in schools that were immaculate. I fully believe it makes a difference in the performance of the kids AND the teachers.
The teachers are amazing! They win "Teacher of the Year" awards at higher levels than our specific school with an amazing ratio! I can't think of a single day that I've driven by the school in the late afternoon and seen an empty parking lot. They come early and stay late. There are truly teachers there with a love for teaching!

They are exposed to many extra-curricular classes, competitions, service projects, and opportunities.
It's a community. Everyone remembers all the kids' names. The principal, the vice principal, the office ladies, the nurse, the librarian, the custodian, the teachers, the classroom aides... They also know the parents' names, and to which kids we belong. I think that's pretty impressive.
There is a high parent involvement. We are encouraged to be in the building in a volunteer capacity

(with a background check!)

as often as we'd like to be there. There are many ways to serve as a volunteer, which makes it extremely easy to find something you like to do. We are also encouraged to come eat lunch with our kids. I try to do this at least once every six weeks for each of my children. They LOVE it!
This has to be prefaced with

"kids are kids"

...but for the most part, the kids are all great! My children have lots of really great friends from school.
Every year, they are placed with the teacher and the classmates that seems to truly be the best for them. The principal and the vice principal meet, and they consider every educational factor and personality trait of each child, as well as those of the teachers for the coming year. They also factor in what the teachers the previous year have said about student-to-student relationships. It's clear that it is never a hasty decision but always one that is well-thought out by the team. And PRAYER has a lot to do with it, too!
School is almost out for summer!!!
Have a wonderful summer! Do something fun with your kids...or your grandkids...or your nieces and nephews...or your spouse! And if none of these apply? Sign up to be a volunteer reader in the fall for a school near you! It will greatly bless you and the kids to whom you're reading!
Ten Things Tuesday Participants
Learn more about Ten Things Tuesday here.

Powered by... Mister Linky's Magical Widgets.